Supply Chain Mastering
Efficient software solution, especially for automotive suppliers
According to a KPMG study (Global Automotive Executive Survey), nearly four fifths of the deciders suppose an increasing use of IT platforms as well as the standardization of software modules to be important trends. Medium-sized OEM are looking for an effective and fast ERP system to cover all challenges of the automotive industry and to optimize their Supply Chain Management (SCM).
Relevant for production, sales and dispatching, purchasing and goods receipt, up to communication and container management: There is a high demand for centralized, overviewable and completely integrated SCM for all processes and formats in the automotive industry.
According to a KPMG study, almost 90 percent of the automotive suppliers want to increase their investments in their module and platform strategies.
One solution for all application areas = APLIKO SCM Automotive
APLIKO SCM Automotive extends the functionality of SAP Business One by the specific requirements of car manufacturers. The ERP-System provides all logistic business processes to support the suppliers in their daily work regardless whether in production with complex BOMs (Bills Of Materials) and work plans, or in sales and in the acquisition logic with skeleton agreements, divisions and progress values.
Also EDI, labels, container management, consignment warehouses and other functions form part of the APLIKO SCM Automotive solution. They make it possible to effectively master the daily requirements based on slim and flexibly designed business processes. Regardless whether you use SCM Automotive as On-Premise or Cloud solution, SAP HANA or Microsoft SQL based – this solution offers all options which the suppliers need and appreciate for their daily work.
Our system and process knowledge of the Automotive Industry puts us in a position to quickly learn operational and technical conditions, to compare them with the capabilities of SAP Business One, and to develop the result to become an optimized total solution for our customers.
Options to use APLIKO SCM Automotive
The module SCM Automotive is independent on industries. It can be used by companies with own production as well as by providers of refinement and logistics. The target market consists of small and medium-sized enterprises with serial production who face the following logistic requirements:
Delivery is executed either manually or electronically by delivery calls from skeleton agreements
The deliveries are mapped by SAP Business One via progress numbers, material and/or production releases, containers, any demands and partial deliveries with full integration in material management processes (ERP), modules and evaluations.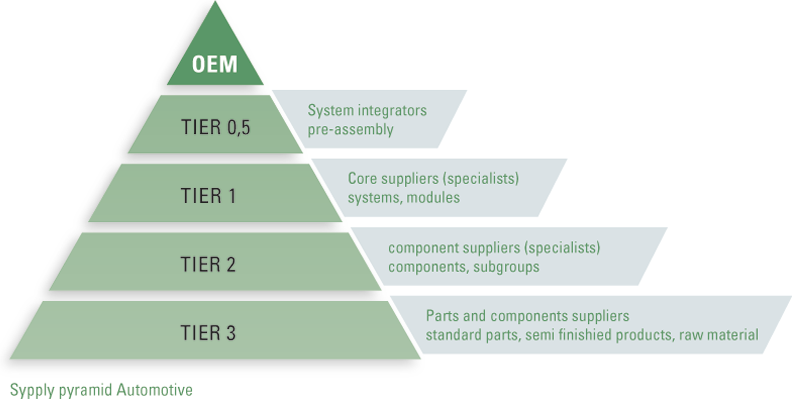 APLIKO SCM maps the logistic cycle for the following areas in their related occurrences:
Automotive suppliers (Tier 0.5 and 1)
Automotive suppliers on a lower level (Tier 2, Tier 3)
Manufacturers of trailers / superstructures
All other industries in a supply chain (refer to SCM Industry)
Performance features
Specific customer guidelines are supported (Guidelines), e. g. EDI links for AUDI, BMW, DAIMLER, Porsche, VW, Fiat, Volvo and many others
Skeleton agreements per supplier and/or customer
Control via goods received and sent progress figures
History database – related proofs show alterations/modifications
Processing of goods receipt / goods sent
Control of complex processes for external service providers (EDL) / logistic centers of supplier (LLZ = Lieferanten-Logistik-Zentren)
Automatic creation of delivery note / transportation data and shipping documents (incl. necessary barcodes) acc. to the standards and guidelines of the customer
Administration of packaging with filling and separator calculation as well as statement of accounts for load carriers
Support of different logistic concepts (VW TSB-Generator, VW NLK, AUDI Perl Chains (deliveries in sequence), Porsche sequential delivery, etc.)