ERP solutions for automotive suppliers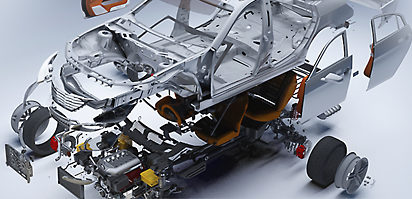 Current developments in the automotive industry are not passing trends. Topics such as digitization, electromobility, and so on represent a downright revolution for the industry and require modern ERP systems. It is precisely these that will fundamentally change traditional business models as well as supply and value chains. Automotive suppliers are therefore dependent on a modern software solution. They are thus prepared for the future and can secure the pole position in their market segment by investing in their process excellence at an early stage.
Automotive suppliers work in an increasingly tough competition and constantly have to implement the changes initiated by the automotive manufacturers in a timely manner.
Price pressure by manufacturer
Rising material costs
Delivery bottlenecks
Industry specifications such as just-in-time or just-in-sequence
and other individual requirements or guidelines of the automobile manufacturers are the daily challenges that suppliers are constantly confronted with.
The advancing digitization of the supply chains enables new optimization potentials. Those can be realized with a modern and cost-effective ERP system that covers all the requirements of the industry.
Software solutions for the automotive supply industry must be of a high standard. EDI standards such as VDA, Odette, EDIFACT and ANSI X.12 with the individual business processes and the individual requirements of the automobile manufacturer including the special processes such as e.g. NLK the logistics concept of the VW Group or a sequential delivery at Porsche. EANCOM processes (e.g. ORDERS) are also increasingly in demand.
The automotive solution of the APLIKO Solutions Suite for SAP Business One offers the complete spectrum for mapping the specific requirements of the industry and can also adapt to rapidly changing challenges.
Our team of consultants at APLIKO GmbH has excellent specialist knowledge and speaks the language of the automotive industry. The solution and the expertise of APLIKO are a guarantee for a successful cooperation with automotive suppliers from the first contact to the implementation project and in the continuous support in live operation.
Have we piqued your interest?
If you would like more information about us and our solutions, please write us at vertrieb@apliko.de.